Busov Hill 3
Apartment interior design
AR - 075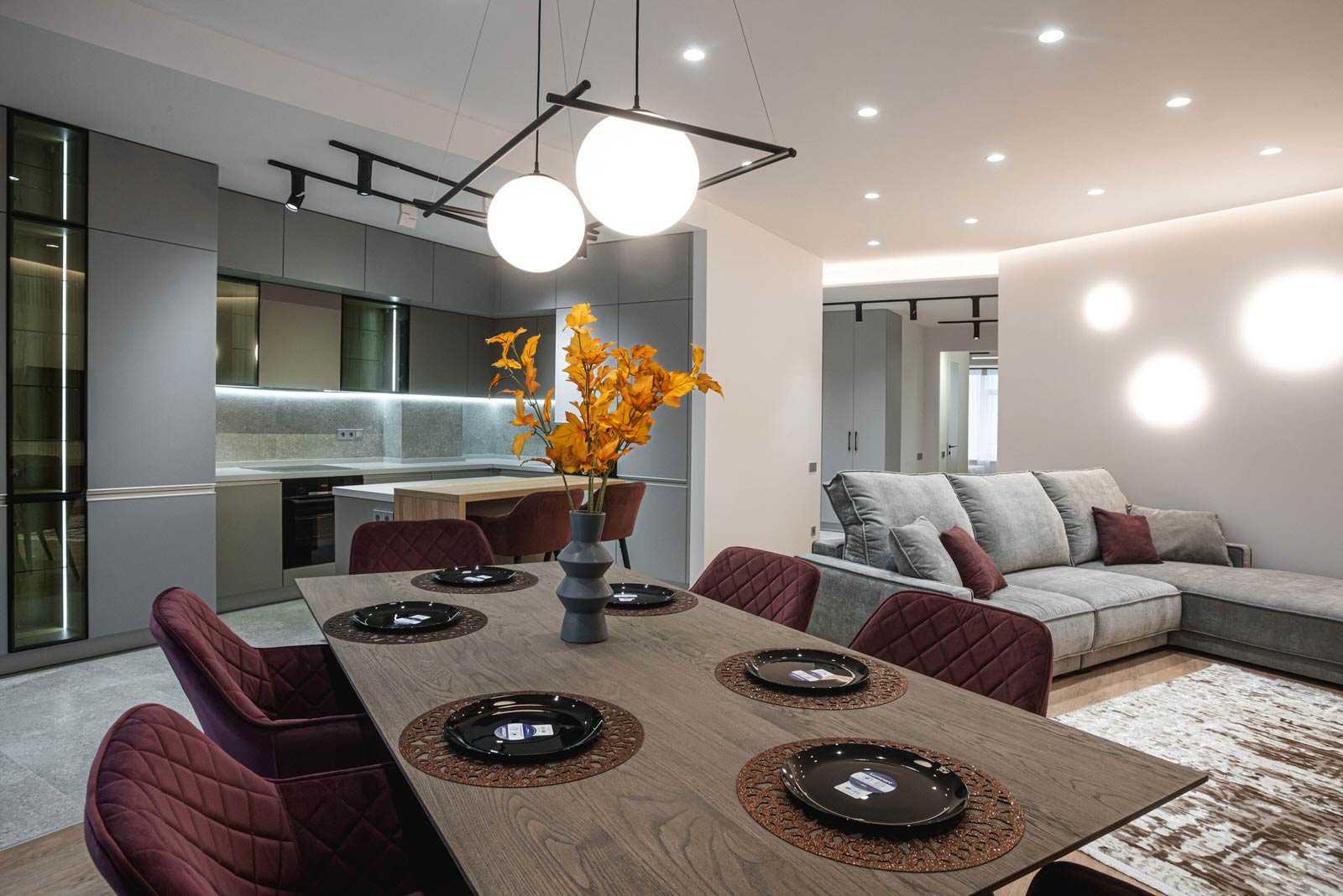 01.describe the project
A luxurious and modern interior that combines exclusive solutions, expressive colors, textures and shapes that you want to consider. A spacious and large apartment in a modern style was created for rent - there are three bedrooms, three bathrooms, a kitchen-living room, an entrance hall and dressing rooms.
The kitchen-living room is zoned into three parts - kitchen, living room, dining room. In the living area, the main attention is drawn to the wall lamps and the wall decoration behind the TV made of natural plaster. The dining group is designed for 6-8 people. The kitchen is of an island type - it is functionally separated from the rest of the space by an island, immediately behind it there is a bar counter with two chairs. Interior lighting was added to the kitchen cabinets. The main kitchen and island countertops are acrylic. All furniture was made to order.
The main accent of the master bedroom is a plush headboard that extends into the plaster ceiling. The ceiling was accented with lighting. To the left of the bed are pendant spherical lamps. The bedroom has access to a spacious dressing room.
A guest bedroom with a double bed and a small wardrobe is the second bedroom in the apartment, if necessary, it can also be used as a home office.
In the bathroom, the owners used a combination of dark wood textures with light and gray stone. The apartment has a separate guest bathroom with shower - for the complete comfort of guests and hosts. The third bathroom is the smallest (a minimum set of plumbing, including a hygienic shower).
The entrance hall and corridor are as laconic and bright as possible. A boiler was installed in one of the closed niches and a place for storing household items was made. In the corridor, a panel room was hidden in the wall inside the closet at the entrance.
AR - 075
Year:

2021

Location:

Kyiv, Ukraine

Rooms:

4

Area:

145 м²
Kitchen-living room interior
Kitchen-living room interior