Residential Complex Khreshchatyk
Apartment interior design
AR - 061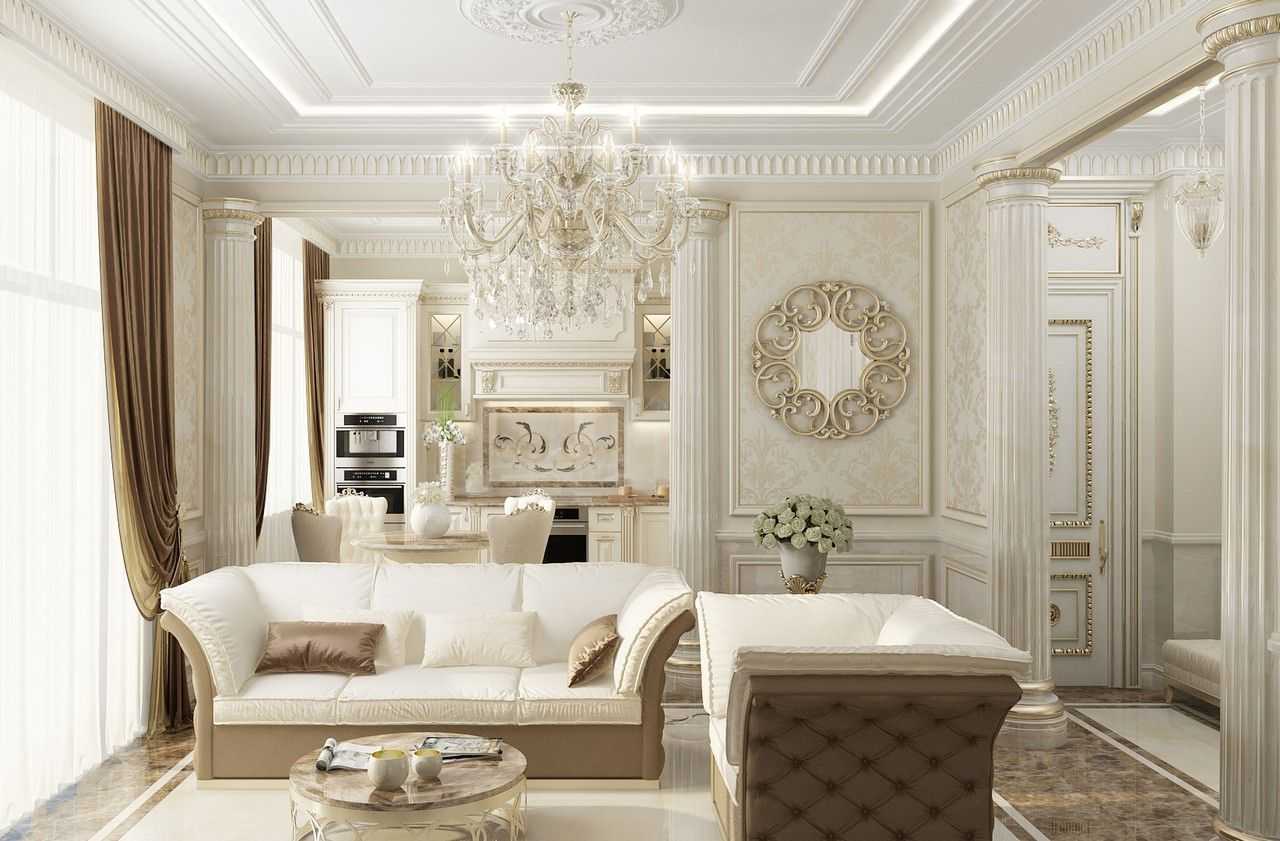 Year:

2019

Object:

Apartment

Location:

Kiev, Ukraine

Style:

Classic

Rooms:

2

Area:

55 м²

Basic materials:

Marble, crystal, mirror facets, art parquet, decorative plaster, textile wallpaper, plaster moldings with gold leaf.
Classics in the interior are always noble luxury, sophistication and chic. For the design of an apartment in the center of Kiev, they used warm colors characteristic of the style in combination with gold, natural finishing materials, stucco molding and crystal. The total area of ​​the apartment - 55 m² - includes a kitchen-living room, a bedroom, a corridor, a bathroom and a dressing room.
To decorate the walls in the corridor, kitchen-living room and bedroom, they chose decorative plaster and textile wallpaper, decorated the walls with plaster moldings with gold leaf. The antique traditions of the classical style are emphasized by the columns and stucco moldings on the ceiling. The marble floor in the kitchen-living room is made of light (Bianco Perlino) and brown (Emperador Light) stone. Living room tables, kitchen worktops and apron, dining table are also marble. Laser cutting of marble was used to create the patterns. Italian furniture, crystal chandeliers and mirrored facets maintain an atmosphere of wealth and solemnity, while the space remains cozy and bright.
The central element of the bedroom is a bed with a luxurious headboard up to the ceiling, made of plush panels with velor and mirrored facets. The finishing of the bedroom floor is artistic parquet: it is better suited than marble, which is "coldish" for the interior of such a room. The wardrobe for the bedroom and the modules for the dressing room were manufactured by the Kiev company "Gran-Premier". For a light and shining bathroom, we chose elite bathroom fixtures from the Axor brand. The design of the dressing room and the bathroom is made in accordance with the concept of sophistication and elegance of the classics, common for the entire interior of the apartment.