Residential Complex Busov Hill 2
Apartment interior design
AR - 072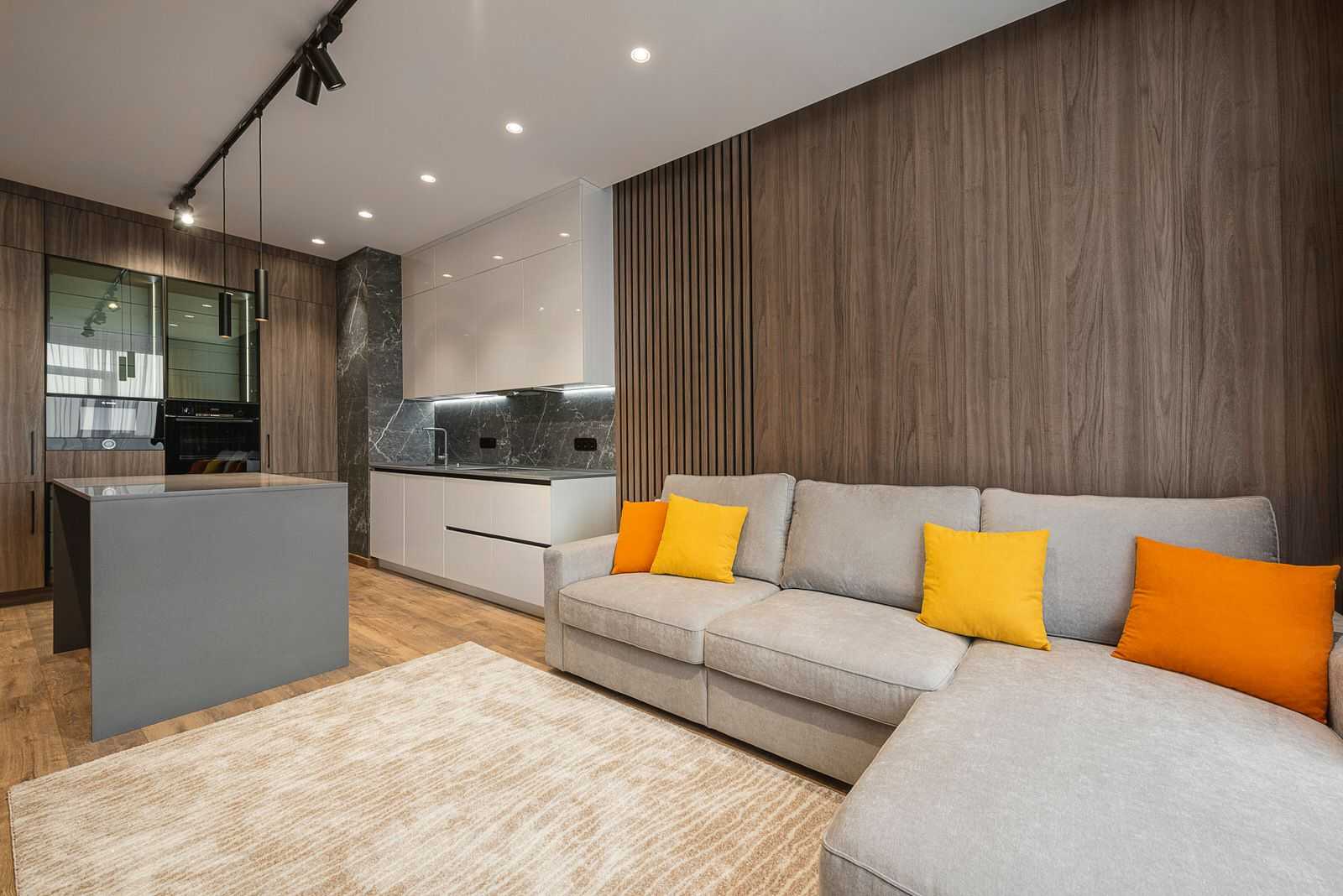 01.describe the project
The kitchen-living room was zoned - the kitchen, living and dining areas were arranged separately.
Island type kitchen. Furniture fronts and countertops - white, gray (the kitchen itself and the "island"), also used mdf-facades under dark wood (a niche with an oven, microwave and storage space). Gray stone was used in the decoration - for the kitchen apron, parts of the wall and countertops - due to the additional lighting of the kitchen apron, the stone pattern was emphasized.
Dark wood, as on the facades of the kitchen, was also used in the living area - wall panels with slats. Bright orange armchairs and pillows were used as color accents in the living area.
To decorate the wall behind the headboard in the bedroom, we chose soft wall panels in a delicate beige color. We also used dark wood panels - for partial decoration of the wall next to the bed, as well as the walls opposite (TV and dressing table area, panel-slats). In addition to the main lighting (chandeliers), there is an additional linear lighting (under the ceiling above the bed, on the left and above the wooden wall slats).
The entrance hall is quite spacious and bright. Large mirrors were a separate request of the customer. The solution was implemented as follows - for one of the walls they made a mirror finish, almost the entire height of the wall, and also combined the mirrors with the doors of the sliding system, behind which the wardrobe was hidden. Wooden wall panels with slats were used in the decoration (as in the living area).
White marble tiles were chosen to decorate the walls of the bathroom. We have equipped both a shower and a bath. In the guest bathroom, a combination of wood-like and stone-like tiles was used in the decoration. This bathroom only has a shower. In a hidden niche, a place was organized for storing things and household chemicals.
AR - 072
Year:

2021

Object:

Apartments

Location:

Kyiv, Ukraine

Style:

Modern

Rooms:

3

Area:

102 м²
Kitchen-living room interior
Apartment interior design