Residential Complex Zlatoustovsky
Apartment interior design
AR - 076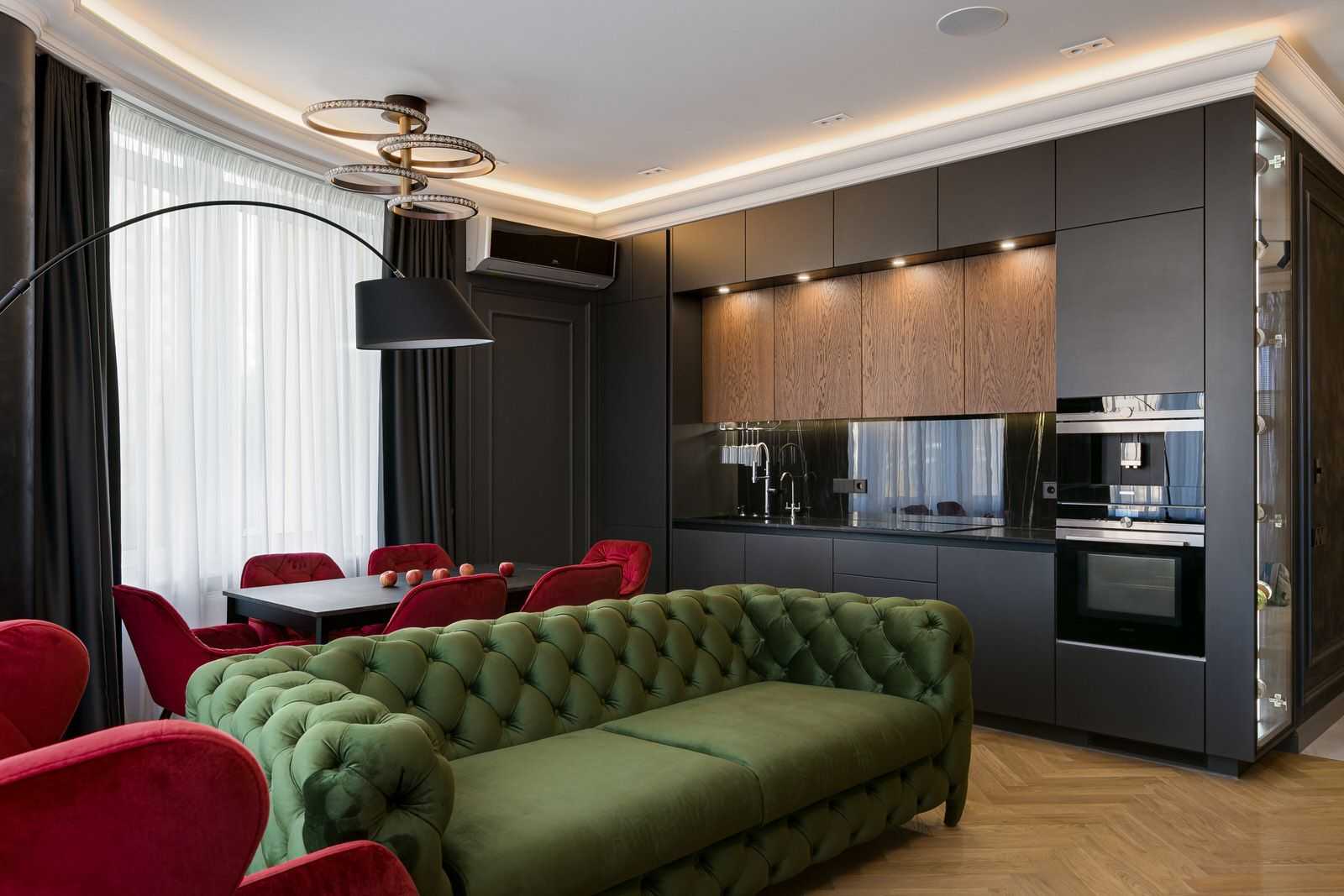 01.describe the project
The interior design of the apartment was created on a turnkey basis, for a young family with a child, a girl of primary school age.
The kitchen-living room turned out to be very bright due to the large windows to the floor. The kitchen itself is dark gray, part of the facades is made of wood. Furniture - a green sofa and red armchairs - became bright accents of the interior.
The apartment is two-room. And since the second room had to be made for a nursery, we proposed to zone the kitchen-living room and equip the bedroom area behind the partition. The result is a small, but almost complete bedroom.
In the nursery for the girl, we have equipped not only the main areas, but also additional ones: a beauty corner and two recreation areas - one with a hanging chair, and the second by the window, on a large soft windowsill. There is also a work corner. We tried to embody all the wishes of the young mistress and create a space for her that she will love and proudly call her room. ⠀⠀⠀⠀⠀⠀ There are three dressing rooms in the apartment: one is a common dressing room near the hallway, the second is near the bedroom, and the third is a children's room. She managed to be placed in a convenient place - next to the future room of the young mistress.
In addition to the main bathroom, there is also a second bathroom. The interior of the bathroom turned out to be austere in its own way, but at the same time luxurious - in the best sense of the word.
Such interiors dispel stereotypes about luxury. Luxury is not about pathos, not about the abundance of everything. Real luxury is beautiful, style and details. This is a modern classic.
AR - 076
Year:

2020

Object:

Apartment

Location:

Kiev, Ukraine

Style:

Modern classic

Rooms:

2

Area:

97 м²

Basic materials:

Tiles for stone, textiles, wood, decorative plaster, mdf.
Kitchen-living room interior
Children's bedroom interior
Kitchen-living room interior
Children's bedroom interior