Residential Complex Delmar 1
Apartment interior design
AR - 073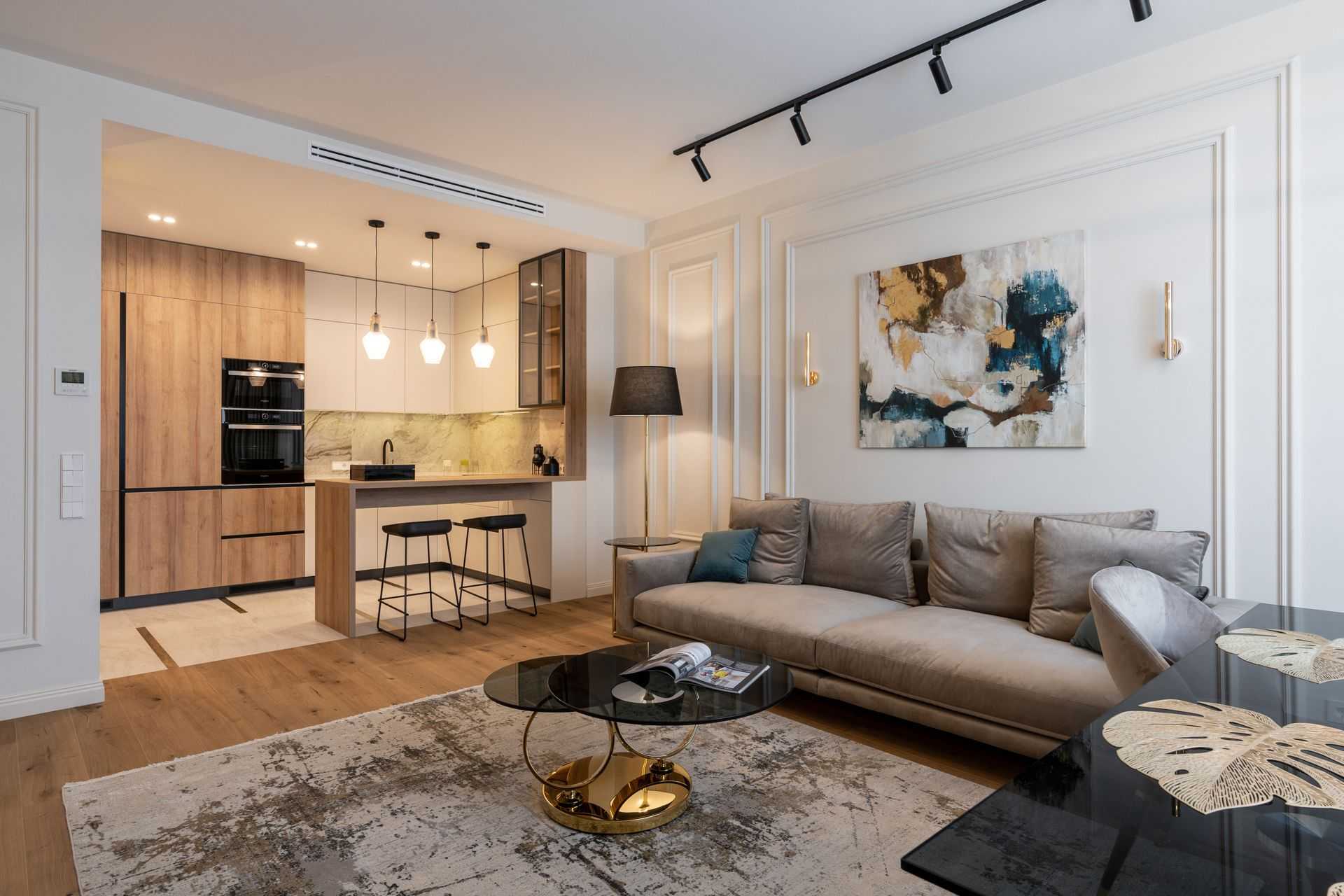 01.describe the project
This spacious and bright apartment is designed in the style of modern classics. The project for this apartment took 5 months to complete.
Kitchen-living room - 34 sq.m (kitchen area - 10 sq.m, living and dining area - 24 sq.m). The kitchen is made of painted MDF, chipboard was also used, the wood texture is the same as in the hallway. The worktops are acrylic. Floor finishing - stone tiles 60 * 60 with brass inserts. All appliances are built-in. The bar counter is a functional element of the interior and at the same time a zoning technique. Illuminated bar cabinet.
In the decoration of the walls of the living room, plaster moldings were used, they were supplemented with a picture on the wall behind the sofa, and wooden slats with mirror inserts were also used on the wall opposite. The floor is finished with parquet. Next to the sofa there is a floor lamp and a coffee table. In the TV area there is a suspended console with a quartzite table top, on the sides of the TV there are accent lamps. By the window there is a dining area for 6 people, with a stylish three-piece chandelier above the table.
In the interior of the bedroom, they also used plaster moldings, additionally used wall panels with mirrors and lighting (in the decoration of the wall behind the headboard and the walls in the TV area). There is a dressing room next to the bedroom.
The children's room was arranged for a girl of middle school age. Sleeping area - with a soft, adjustable headboard. Beauty corner with illuminated mirrors. A cozy plush lounge area was arranged by the large window. Under it is a niche for storing things. Built-in wardrobe - with lighting on the shelves, TV and a mirror. Laconic workplace. In the decoration of the walls, as in other rooms, plaster moldings were used. Concealed doors with accent black handle.
Bathroom - 10 sq.m. With a freestanding bathtub, two washbasins, marble and wood effect tiles, and a mirror on the door.
The hallway area from the part of the corridor leading to the bedrooms is separated by a partition made of wooden slats. The walls were decorated with wood-like wall panels - a practical solution for the hall. In the entrance hall there is a spacious wardrobe with lighting, including compartments for bags and shoes, as well as a console with a pouf. A utility block is hidden behind a niche with large mirrors - a laundry room with a washing and drying machine + storage space.
AR - 073
Year:

2021

Object:

Apartment

Location:

Kyiv, Ukraine

Style:

Modern classics

Rooms:

3

Area:

100 м²

Basic materials:

Stone tiles, stucco, textile panels, mirror facets, decorative plaster.
Kitchen-living room interior
Apartment interior design